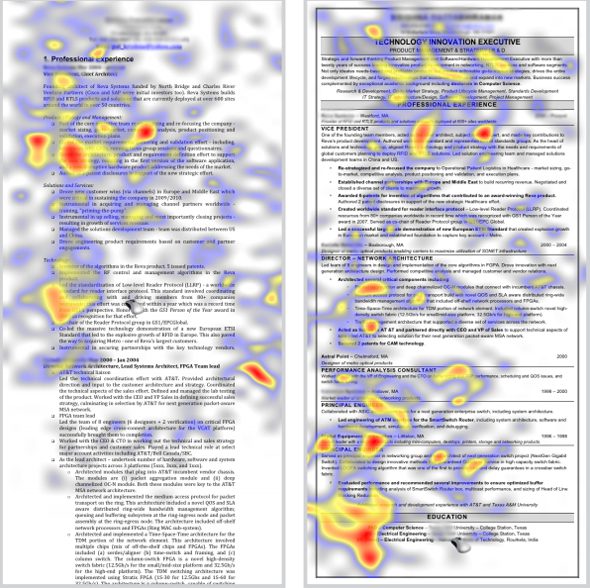 In a job market like ours today, news about job hunting, resume building, and interview preparation are rampant. But a recent article caught our eye this week that made us think about resumes, and the competition that job seekers have on their hands. Vivian Giang of the Business Insider published "What Recruiters Look At During The 6 Seconds They Spend On Your Resume" earlier this month, and the article has caught fire, with more than a million people reading the article.
Giang's article summarizes a recent study that used heat map technology to track recruiters' eye movements as they scanned a resume. The study found that recruiters spend an average of six seconds on a resume. That's six seconds of reading on what job seekers likely spent hours upon hours constructing.
So what does this mean for job seekers? First, you've got to catch a recruiter's eye. The study found that recruiters spent longer and looked at more content on less densely written resumes, so padding your VC with long descriptions isn't going to help you. Brevity and specificity are key. Also, use numbers where possible in lieu of generic adjectives to show, rather than tell, that you have what it takes. "Increased sales 23% in first month as sales manager" is more powerful than "skilled salesman".
Second, think of the recruiter's process as an elimination game. If you were looking for a reason to toss your resume out of the pile, could you find it? A single typo in a stellar resume is likely to send your piece of parchment into the recycling bin.  The same goes for an inappropriate or unprofessional email address. Remember, you aren't going to be in the recruiter's office to justify anything on your resume as they read it, so assume the worst and eliminate unprofessional content.
Yes, we have a tough and competitive job market on our hands, but knowledge is power. Learning about the hiring process—and in this case, the resume reading process—will give you an advantage in your search for employment. You have what it takes, Biz Kid! Tell us about your job-hunting experiences below. Have you ever had a resume typo cost you a job?