The Biz Kid$ episodes you know and love will soon be part of a treasure hunt for financial literacy! The Biz Kid$ Piggy Hunt is a collaboration of Biz Kid$ and Horizon Credit Union of Spokane Valley, Washington. Josh Allison of Horizon Credit Union created the treasure hunt as an opportunity to personally connect with local schools to spread the message of financial literacy in a fun and interactive way.
Students are given special piggy hunt passports to track their progress through Biz Kid$ clips and corresponding worksheets.  Teachers award signatures in students' passports with each step of progress, and every completed worksheet provides clues as to the location of a hidden piggy bank somewhere in the school. The first student to make it through the worksheets and find the hidden piggy bank are awarded a cash prize from their local supporting credit union!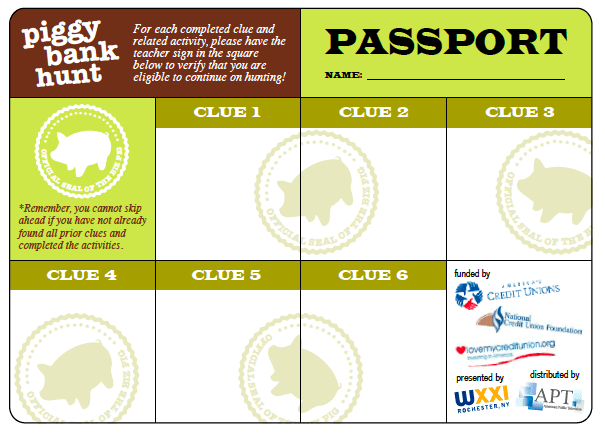 Josh Allison and Horizon Credit Union have already launched the program at North Pines Middle School to much excitement and success!
The Biz Kid$ Piggy Hunt will soon be available to schools and credit unions across the country on a newly revamped teacher's page. Check back in late April for updates to our teacher's page and the Piggy Hunt.
For questions about the Piggy Hunt, you can write to us here.
Get ready for a new way to watch Biz Kid$ in the classroom!