What comes to mind when you hear the word "budget?" For some, pictures of envelopes stuffed with cash are the standard. For others, detailed Excel documents are a must. From the halls of congress to the Velcro wallets of tweens, budgets are a necessary discipline. But what tools are out there to make budgeting easier? This week, we bring you an executive briefing on the latest and greatest tools for crafting your budget.
EEBA: The envelope system has a digital cousin. EEBA is a free app that uses digital "envelopes" to track spending in designated categories such as food, entertainment, and utilities. Make your own boundaries and track your own spending to stay within your goals.
Mint.com: Similar to EEBA, but with additional access to live bank account information. Mint.com has both web resources and apps, so you can take your bank accounts with you wherever you go!
Banking sites: The same bank you use for your savings or checking account probably has its own set of tools available to you for free. Take a closer look at your bank's website, and ask about free tools for customers. From annual reports on your spending to recommendations for helping you save wiser, your bank could be a treasure trove of free resources at your fingertips.
With these tools and a bit of discipline, you're well on your way to crafting a smart and sensible budget. So do you think you have what it takes to be a budgeting master? Check out this interactive feature from the New York Times, and try your hand at balancing our country's budget!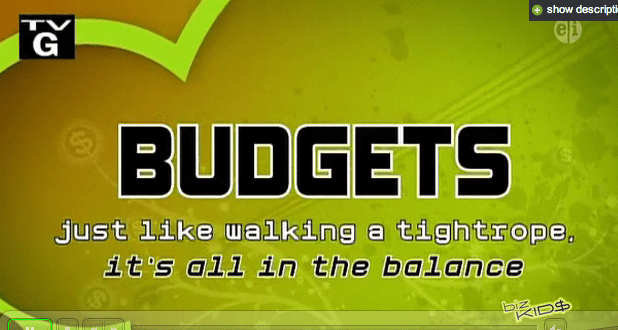 And if you are craving even more budgeting talk, listen to our Biz Kids Hosts give their two cents on the subject.