The following is a guest post Q&A with Biz Kid and balloonologist Travis DeRose.
Tell us about your business. What do you do, and what inspired you?
I'm an expert balloonologist, a balloon twister. I twist at various restaurants including some at Downtown Disney in Disneyland along with private events and parties of all kinds. I can balloon twist all sorts of creations such as a dinosaur, the Little Mermaid, or even a monkey in a tree with bananas.
How did you get started?
I was 15 years old and desperate for any job that would hire me. After searching on Craigslist, I found a post that read, "Balloon Twister – Training Included – Experience Not Necessary." I was extremely intrigued and responded to the post right away. Two weeks later I found myself at the home office of the Twist and Shout Balloon Twisting Company for my first training session. Four months after that, I had passed the test and was proficient enough to start twisting balloons in restaurants and at private events.
I worked exclusively for Twist and Shout for about a year before I realized that I could do this myself. I already had the balloon twisting skills; all that I had to do now was learn to book my own events and get into a restaurant. So with that I started my own business called Twisted Art Balloons.
What challenges have you overcome in the process?
Certainly learning how to twist balloons is tough enough (it took four months alone). On top of that there is learning how to get people interested in your balloons, manage a busy restaurant, deal with unruly kids, etc. There's a lot to learn because customer service, sales, and entertainment are all just as important as the actual balloon itself.
However, the real challenges came when I decided to start my own business. I had the typical challenges of learning how to market my business, network, collect payment, and the list goes on. I just learned through experience and by reading books and business blogs.
How did you fund your business in the beginning?
That's the best part! I had literally no startup costs. I set up a free Yelp page and started posting Craigslist ads. I volunteered to balloon twist at a couple charity events and handed out business cards that I printed myself. From there I began to consistently book events and parties for myself every weekend. Soon I approached a Ruby's Diner and asked if I could twist balloons in their restaurant every week in exchange for tips from their customers. They loved the idea because it was a free way for them to offer entertainment and they even had a kid's night every Tuesday.
If someone wanted to start from scratch, they could start for less than $200. This includes all the practice balloons you'll need to buy, your pump, your apron, and some sharpies. That's it. The big investment in the beginning is time. It's going to take about 150 hours to become proficient at twisting balloons. And honestly, most people quit because it's challenging, time consuming, and frustrating. But that's the reason I can charge $100/hour for my services: there's not many people that can do it.
So let's be real. How much do you make?
When I work in a restaurant, I work for tips alone. I don't charge anything at all. Yes, sometimes I don't receive any money at all for a balloon, but sometimes I'll receive $20. I once even received $200 for a balloon that took me 5 minutes to make. In a restaurant, I can make anywhere from $100-$400 per night. That's usually 4-5 hours of work so I average about $50/hour in the restaurants.
When I work special events or parties, I'm paid an hourly rate ranging from $75-$100/hour. I only work parties that are at least 2 hours long but I've also worked parties that are 7 hours long. So that's $200-$700 in a single day. I usually only work two or three days a week because that's all I have to do. I spend the rest of my time focusing on school or having fun with my friends.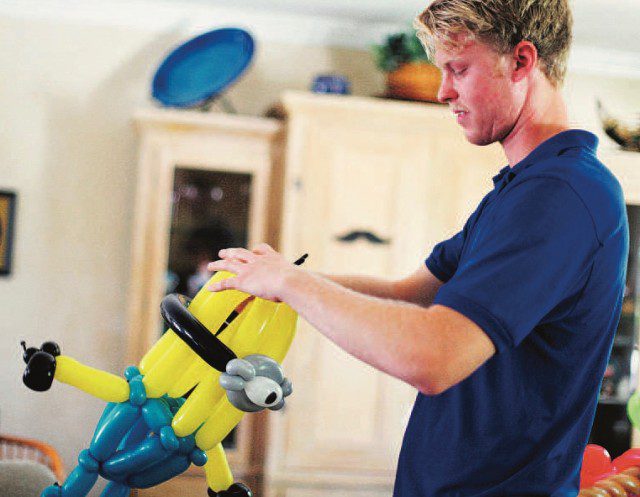 So what would it take for someone to start a balloon twisting business right now?
These are the steps I would recommend to someone wanting to start a balloon twisting business:
1)   Buy yourself a pump and some balloons and start learning how to twist balloons. YouTube is a great resource to learn how to make balloons. Begin with simple things and keep at it. It'll be frustrating at first but anybody can do it.
2)   After you feel comfortable making a few different balloon creations, go ahead and start posting some ads on Craigslist. It's free to post and a lot of people look on there to find entertainment for their parties.
3)   Once you get your first gig, just commit and go. It's going to be awkward and stressful but you just need to take the dive. And remember, most people are really only expecting dogs and swords so if you can do more than that you're better than 50% of the balloon twisters out there. If you're really nervous about your first event, volunteer to work at a charity event for free.
4)   From there, I would work on building a Yelp page. Today, all of the events I book are either from my Yelp page or repeat clients. After every event, ask the client to post a review on Yelp. It'll add up quickly. 3 or 4 reviews are all you need. You can even offer an incentive like 10% off their next event if they write a review.
5)   You could then try approaching a restaurant to see if you can twist balloons in exchange for tips from their customers. Restaurants are great because it is consistent work. I always know that I can go and make money at Ruby's every Tuesday and Saturday night.
How did you get on CONAN?
I applied for tickets on their website. It's a lottery and were lucky enough to receive the four tickets we applied for. I watch the show regularly so I knew that Conan likes to interact with his audience occasionally. I knew that making a balloon Conan would be perfect and he'd love to comment on it. On the day of the taping I made sure to hold up my balloon Conan every time the audience cheered or applauded. Then as we were coming back from a commercial break I noticed all the cameras pointed on me. My balloon Conan and I were the opening shot coming back from commercial! Conan and his sidekick Andy then proceeded to talk to me and about my balloon for the next minute or so.
I've been back a few times since and have made balloons every time. One time I even made a life size balloon Conan and was invited on stage after the show to take a photo at Conan's desk!
For more about Travis's business, check out his company's Facebook page, Twisted Art Balloons.